Abstract
Stress from social environments has various behavioral consequences, depending on the specific conditions. Brief exposure to stress induces adaptive behavioral responses, whereas prolonged stress causes negative behavioral consequences, including depression and anxiety, and can be a risk factor for mental illnesses. Previous studies have shown that stressful stimuli alter functions and structures of neurons in stress-related brain areas, such as the medial prefrontal cortex, thereby regulating stress susceptibility. Stress induces rapid changes in intracellular signaling and metabolism, and slow changes in gene expression in specific brain regions and cell types. Consequently, functional and structural changes of neurons occur and result in alterations in their specific inputs and outputs, which in turn affects local and global neuronal networks. Therefore, regulation of stress susceptibility is a multiscale phenomenon ranging from the molecular, cellular, neuronal circuit, and behavioral levels. However, causal relationships linking these multiple levels remain to be elucidated.
In this research, we will examine stress-induced multi-level molecular changes in transcriptional and epigenetic regulation, intracellular signaling, and metabolic pathways in specific brain regions and cell types. We will also visualize functional and structural changes of neurons at the synaptic, local-circuit, and global-circuit levels. We will integrate these changes to forge an in silico stress model. Cultured cells will be employed to examine multi-level molecular changes induced by stress-related stimuli, which will be compared with those in vivo. Molecular and opto/chemogenetic manipulations will be used to test the validity of the in silico stress model as well as its relevance to stress susceptibility, and to manipulate stress susceptibility in normal animals and correct it in animal models of mental illness. Collectively, we aim to elucidate a multiscale phenomenon underlying the regulation of stress susceptibility and to develop methods to manipulate stress susceptibility. This approach will promote our understanding of stress-related abnormalities, and may contribute to therapeutic development for mental illnesses.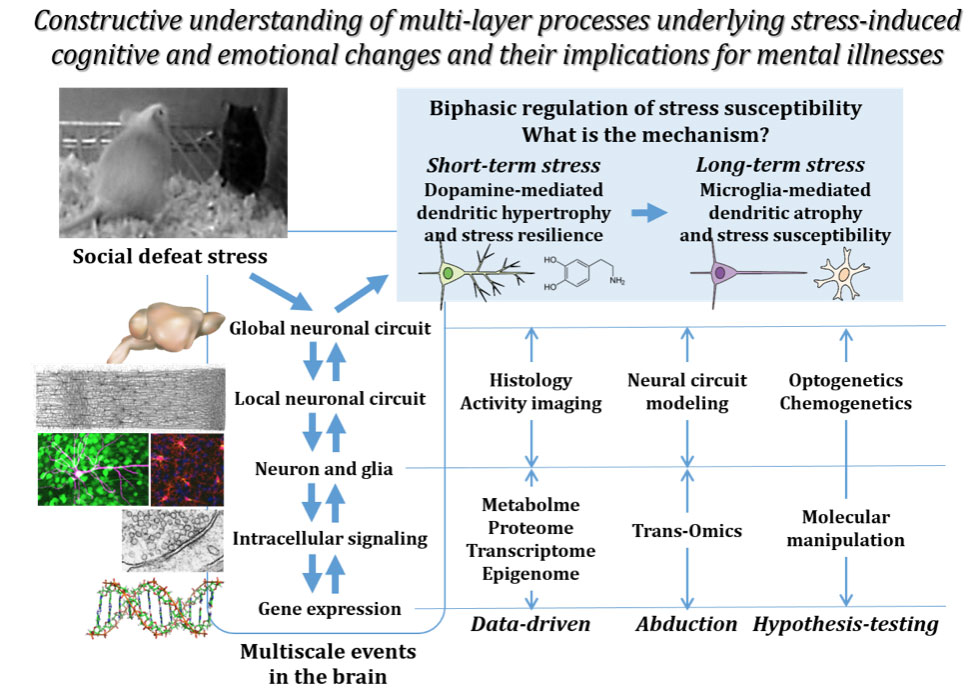 Publications
Nie X, Kitaoka S, Tanaka K, Segi-Nishida E, Imoto Y, Ogawa A, Nakano F, Tomohiro A, Nakayama K, Taniguchi M, Mimori-Kiyosue Y, Kakizuka A, Narumiya S, *Furuyashiki T. The innate immune receptors TLR2/4 mediate repeated social defeat stress-induced social avoidance through prefrontal microglial activation.
Neuron (2018) Epub ahead of print.
Shinohara R, Taniguchi M, Ehrlich AT, Yokogawa K, Deguchi Y, Cherasse Y, Lazarus M, Urade Y, Ogawa A, Kitaoka S, Sawa A, Narumiya S, *Furuyashiki T. Dopamine D1 receptor subtype mediates acute stress-induced dendritic growth in excitatory neurons of the medial prefrontal cortex and contributes to suppression of stress susceptibility in mice.
Molecular Psychiatry (2017) Epub ahead of print.
Deguchi Y, Harada M, Shinohara R, Lazarus M, Cherasse Y, Urade Y, Yamada D, Sekiguchi M, Watanabe D, Furuyashiki T, Narumiya S. mDia and ROCK mediate actin-dependent presynaptic remodeling regulating synaptic efficacy and anxiety.
Cell Reports 17 (2016) 2405-17.